Guarantee your copy of Canadian Military Family Magazine today and receive it right in your mailbox. Purchase an annual subscription, six issues today.
Only $17.95 in Canada and $25.95 in the United States (plus tax).
In every issue you will find:
fascinating profiles
information on programs and benefits
interesting interviews
programs and services for military families
financial advice
military family cartoon Ted and Janie
plus lots more...

Subscribe Today 
Guarantee your copy today and subscribe today and receive Canadian Military Family Magazine bi-monthly.
Canadian Military Family Magazine is delivered through Canada Post Publication Mail and published six times a year. Our issues include: Winter (January), March Madness (March) Spring (April), Summer (June), Fall (September) and Holiday (November).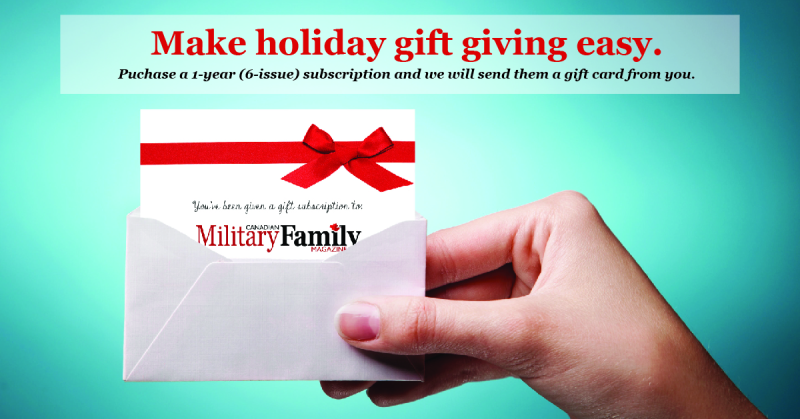 ---

 

Subscription Services
Ensure you subscription doesn't lapse. Click here to be directed to our subscription services page where you can:
change your address
check the status of your subscription
renew your subscription
---

Entrepreneur Program
Subscribe to our Entrepreneur Program. Learn more about this unique program designed to help military spouses and military members extend their business reach. Learn more...
---
 

Professional Gift Subscription Program
Looking for a unique gift to gift to your clients in the military. Why not join our Professional Gift Subscription Program. Learn more...
---
Satisfaction Guarantee:
Magazine: As always you can cancel your subscription at any time and get a full refund for unmailed issues.
Ezine: You can revoke your email consent at any time by clicking unsubscribe.