As you read this now, hundreds of Veterans and First Responders make their way on a coast to coast trip across Canada on their motorcycles, as part of the Second Annual Rolling Barrage. The large group of Veteran and First Responder bikers began their journey in Halifax, NS, on August 6 and will end in Victoria, BC, spreading awareness to break the stigma surrounding Post-Traumatic Stress Disorder (PTSD).
"We are estimating about 1,000 riders in total this year, ranging from riders doing one coast to another, some just within their own province, or like myself riding parts of Saskatchewan, all of Alberta, and part of British Columbia," said Brett Gale, National Media coverage for The Rolling Barrage.
The first Rolling Barrage started in 2017 by Corporal Scott Casey. Cpl. Casey currently presides as President and CEO of Military Minds Inc. (MMI), an international Organization that began as an online peer support group.
Today, MMI serves to connect and support both active and retired Military and First Responders who share a standard connection, having been exposed to traumatic events, with the support and resources they need.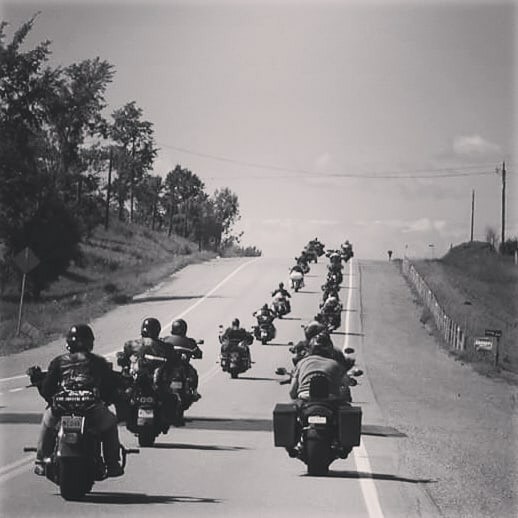 While society has become more aware of PTSD, there's still a cloud of stigma surrounding it and having to ask for help. For support programs to work, people need to be encouraged to come forward and not suffer in silence. Not all wounds are visible, but they need to be treated like any other open wound.
The Rolling Barrage is open to anyone with the passion for raising awareness on PTSD and funds to support programs to combat PTSD, and there's still time to join them in Saskatchewan before they make their way into Alberta.
"The ride is going great so far, it started with the presentation of a portable sawmill to Rally Point Retreat in Nova Scotia, which helps those with PTSD and other afflictions deal with their injuries and move forward," said Gale. "There is no specific amount set as a fundraising goal, as we can always find more people to help with it."
The name Rolling Barrage pays tribute to the artillery barrage used during the battle at Vimy Ridge in the First World War. The first annual ride took place during the 100-year anniversary of Vimy Ridge. During that first ride, over 800 bikers connected during this ride over 15-days, coast to coast across Canada.
"The reason for doing this is to help people with PTSD to know they are not alone. It is a normal reaction to an abnormal circumstance as a result of being witness to or involved in something horrific," said Gale. "We need those people to know we are there to help and to have those conversations and speak up."